NAVIGATION:
View the full-length article
Download the infographic

THE NUWIND LINE OF GENERAL PURPOSE CENTRIFUGES FROM NUAIRE
Large Capacity and Small Footprint Bench Top and Floor Centrifuges Versatility and Efficiency to Meet all Your Laboratory Separation Needs
NuAire is universally recognized as one of the world's leading providers of reliable equipment for the most demanding environments, including Biological Safety Cabinets, CO2 Incubators, Laminar Air Flow workstations, Ultra Low Temperature Freezers, Centrifuges, and more.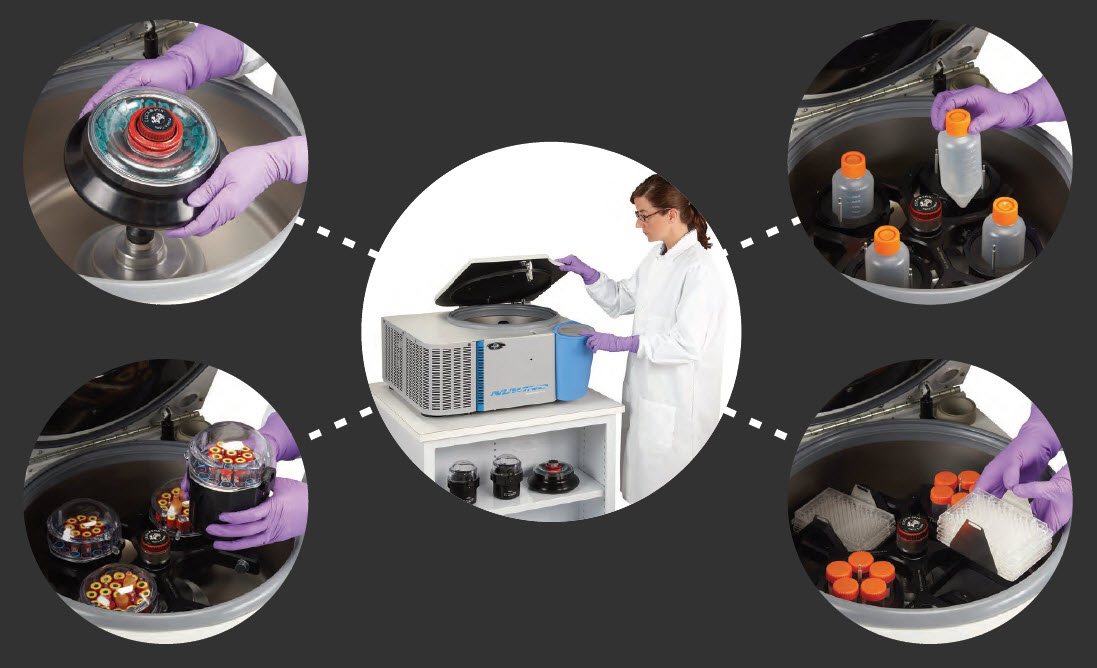 NuWind General Purpose Centrifuges offer larger capacity in a smaller footprint. The ability to change rotors within seconds allows for multi-application use in cell culture, bioproduction, blood separation, microbiology and more.
VERSATILITY AND EFFICIENCY
A range of available models and features
Bench top and floor – refrigerated and vented - 2 or 3 liter capacity
Spin conical/blood tubes, microplates, bottles, and more.
ADVANCED PERFORMANCE
ClickSpin technology enables rapid rotor exchange
InSight Electronic Control Center enhances the user interface and control
First Air Ventilation System provides efficient cooling and protection
SAFETY AND QUALITY CONTROL
Rotor recognition prevents excess rotor speeds
Imbalance control detects excessive vibrations
Power factor control supports repeatability of instrument runs
CENTRIFUGE MODELS AND SPECIFICATIONS:
NU-C200R General Purpose Bench Top 2 Liter
Refrigerated Centrifuge
Capacity: 4 x 625 mL
Max Speed: 18,000 RPM
Max RCF: 30,980 xg
Dimensions: 26.6 x 24.8 12.7 in (W x D x H)
NU-C200V General Purpose Bench
Top 2 Liter Vented Centrifuge
Capacity: 4 x 625 mL
Max Speed: 15,300 RPM
Max RCF: 22,380 xg
Dimensions: 18 x 23.8 x 13.7 in (W x D x H)
NU-C300R General Purpose Bench Top 3 Liter
Refrigerated Centrifuge
Capacity: 4 x 750 mL
Max Speed: 12,100 RPM
Max RCF: 16,660 xg
Dimensions: 30.3 x 26.8 x 13.8 in (W x D x H)
NU-C300V General Purpose Bench
Top 3 Liter Vented Centrifuge
Capacity: 4 x 750 mL
Max Speed: 10,700 RPM
Max RCF: 13,000 xg
Dimensions: 19.7 x 26 in x 14.6 (W x D x H)
NU-C300RF General Purpose Bench Top 3 Liter
Refrigerated Floor Centrifuge
Capacity: 4 x 750 mL
Max Speed: 12,100 RPM
Max RCF: 16,660 xg
Dimensions: 32.7 x 26.4 x 27.2 in (W x D x H)
- See More -
NuAire Instruments